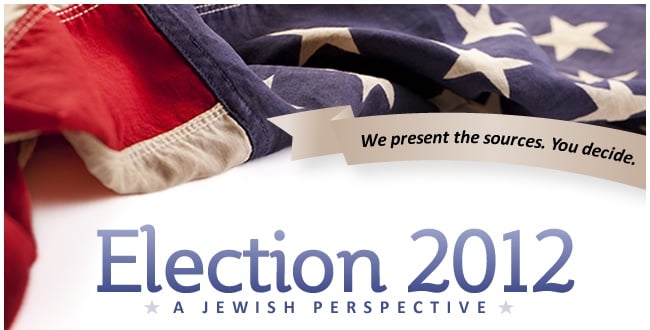 Course Begins Oct. 14th. To RSVP please email info@chabadjec.org

Class Fee: Free:
Class Sponsor: $180 
The Hottest Issues. The Jewish Perspective.
A New Six Part Series Starting Sunday, October 14th - 9:30 - 10:30 am


Presidential election campaigns raise issues that concern most citizens. Politicians strive for advantage as they seek election; citizens seek to do the right thing, to use the power of the ballot to express their honest convictions. The choices we make a s a nation affect our daily living in so many ways. No matter what our political affiliations may be, it is our social obligation to choose wisely and well.
Judaism has always provided guidance on all issues of life, on personal matters as well as those of public and communal concern. In this powerful series we will explore the Talmud's enduring values and its deep insights, and discover how they can help us navigate today's political hot-button issues.
Join us in a spirited give-and-take conversation, that will highlight the ageless values of our Jewish tradition, empowering you to make your own informed decision guided by Torah values. This will prove invaluable as you contribute to our great democracy by casting your vote for the candidate of your choice.
CLASS 1
Sunday, Oct. 14TH  9:30AM
Distribution & Redistribution of Wealth

What wisdom does Judaism have to offer on the issue of the distribution of wealth? Is wealth a mark of sin, a sign that a person has greedily taken too much and necessarily impoverished others? Is poverty a sign of laziness or ineptitude, an outer indication of a poor character? Let us explore together why there is inequality in wealth and what should we do about it.
CLASS 2
Sunday, Oct. 21ST  9:30AM
Charity & Taxation


How did Jewish communities understand their roles in furthering the welfare of the people? In what way do Jewish law and values articulate the issues so that we can think about them well and thoughtfully proceed with effective and ethical actions that will achieve a well-understood and well-conceived goal?
CLASS 3
Sunday, Oct. 28TH  9:30AM
Taxation with Representation


Taxation is about providing governments with the funds they need to spend. The questions we should ask, then, are: what are the kinds of things on which it is legitimate for governments to spend; and who is empowered to decide exactly which and how many of those things the government should fund?
CLASS 4
Illegal Immigrants and Amnesty
Do countries have a right to admit newcomers only under certain conditions? Can a country make sure that the influx of immigrants will not disrupt its own labor market? Does a country have a right to insist that its laws be respected and its culture honored? Looking through the lens of Jewish law and tradition, we will seek a deeper understanding of the real issues at hand.
CLASS 5
Sunday, Nov. 18TH  9:30AM
Health Care
Whose responsibility is our health care? Are others responsible for me and am I responsible for others? Is health care insurance a contradiction to trust in G‐d? Does a community have a right to require its members to buy health insurance? What is the role of our own free choice in solving health care problems?
CLASS 6
Sunday, Nov. 25TH  9:30AM
Campaign Finance
When a person with power accepts gifts, his vision is blinded, his judgments are skewed and people lose faith in the system. But what are the limits? Can one contribute to a PAC? Suppose a local judge gets married. Can one give a present without fear of impropriety?